This will be a work in progress...
After my last ride report it was mentioned that I should start a sticky on motorcycle camping mainly on equipment and the process of packing a motorcycle.
First I would like to make it clear that I am by no means an expert on anything
, but what I have I feel is more experience than the average bear on living out of doors. A lot of that experience is military, where rugged, lightweight equipment is key, and packing and loading that equipment is sometimes challenging. In concept the same applies to motorcycle camping with the need for compact, and lightweight equipment. Add to that the complexity of loading it on something that you will have to balance and maneuver, and you see the problem. Now I consider myself anal on some areas of this, but it is just the way I was taught and stuck with it. It drives my wife crazy so it also has entertainment value....
I will make this thread a sticky and lock it. It will grow as I add sections to this so come back and check from time to time. If you see any errors, or feel you need to add something please PM me and I will address the issue.
Taking it with you. The art of loading a bike like a pack mule.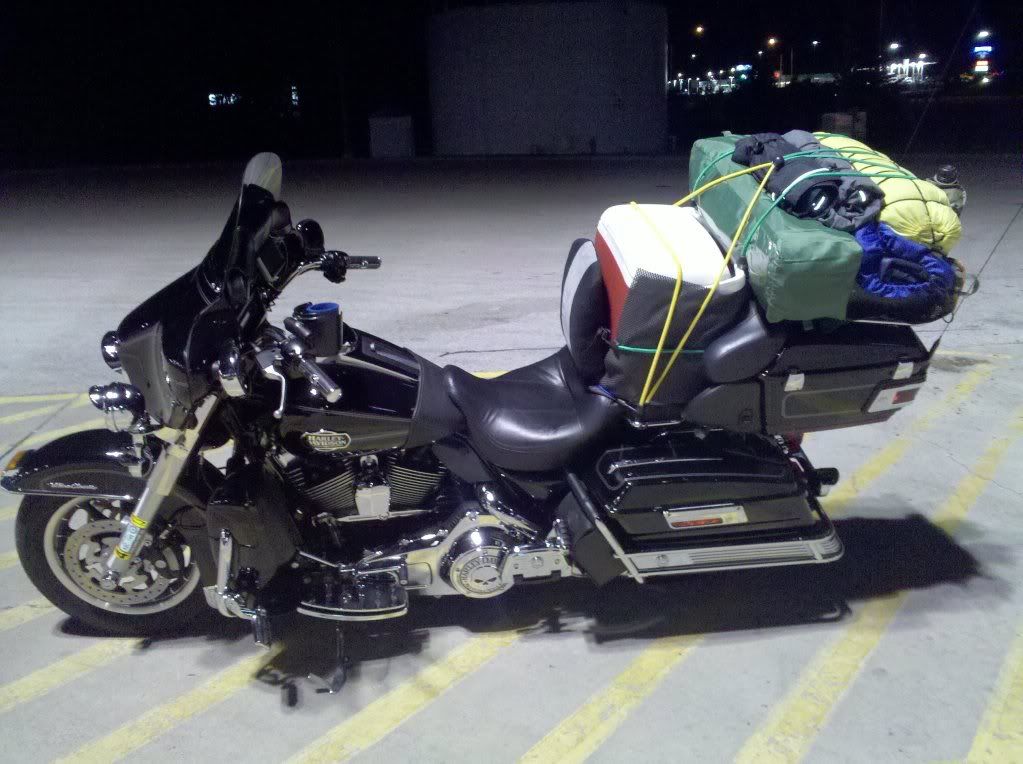 - LOADPLAN-
The first and one of the most important decisions that you will make prior to hitting the road is coming up with a good "load plan." In the military load plans were a way of life that you ALWAYS followed. Every vehicle was loaded the same way, tool bags, weapons, spare ammo, first aid kits, etc... would be found in the same location on every vehicle. The main reason was, in combat if you had to go to another vehicle for ammo or anything, you knew where it was. The other reason, the one that applies to this particular topic is that you know what is on your bike, and can pack it back the same way on day 13 as when you left your house. I have mentioned before that I have seen guys show up on the first night with the bike and gear looking nice and tight, but can't get the equipment loaded back on the bike the next morning. Load plans will be different for everyone, and should be flexible enough that you can pack for hot & cold weather, and short and long trips. One example that I use is that I have a "Basic load" that is the same no matter if the trip is hot, cold, short, or long.
My basic load.
shaving kit ( I mean shower kit, no one shaves on the road right ? )
extra pair of jeans
4 pair of socks
4 pair of underwear
4 shirts
rain gear (worn or rolled up and strapped on top of tour-pak)
leather jacket (worn or rolled up and strapped on top of tour-pak)
2 pair of gloves (one worn, one stored in lower fairing pocket)
Tool bag ( left saddle bag )
tire repair kit with air pump ( left saddle bag )
bungee kit ( extra bungee cords, and straps stored in lower fairing pocket )
4 small 2 large ziplock bags (stored in lower fairing pocket)
4 small 2 large garbage bags (stored in lower fairing pocket)
It does not matter if my trip is 4 or 40 days, if I am camping or staying in a hotel that list does not change. You need to figure out what
YOUR
basic load will be and stick to it. Just because I choose to bring 4 pair of socks does not mean you can't have 5 in your basic load. Once you commit to what you want in your basic load, stick to it
Now that you have a basic load that you will be using, pack it, unpack, & pack it again. See if you can figure out a way to pack it, and load it as small as possible. Space on a bike is valuable, the more space you save on basic load, the more room you have for gear for the trip.
Basic load is just that your basic load. If you find that you are taking something with you every time you go on a run, just add it to your basic load.
**NOTE**
Try to avoid adding too much to your basic load. You will be adding stuff like a sleeping bag or bed roll, tent and such to your GEAR LIST which we will discuss later. I keep my basic load packed and in my spare bedroom so all I have to do is grab it and load it. If you keep you basic load B-A-S-I-C you will find that you will avoid bringing stuff that you do not need or use.
Once you have this concept down and know where you are going to pack your basic load on your bike it is time to think about what else you will be bringing with you.
******************18 May 2011********************
Packing.... A lost art form
" Packing the Void "
This is a process that changes every time you finalize your gear list. Packing the void means quite simply packing items within other items. If you still don't know what I mean here is an example: Let's say you are taking a small to medium sized cooking pot with you because you will be camping on this trip. Well what items can you pack in that pot before you load it up. The pot itself is going to take up a constant space because you can't make it smaller. But you can utilize the void in the pot for other items. Items like cups, pots and other items with wasted space should be utilized to store stuff. Some of you asked or commented on me bringing a two burner stove. Well that Coleman 2 burner stove has a very big void that was packed with just about an entire field kitchen for camping. And it did not cost me any more space. The trick to void packing is to lay out all your gear, and start the process of compression packing the soft items, or looking at the hard items and filling the void with those soft items.
"Multi-use items"
You would be amazed how much I save in space when I utilize these items. Simple things that you normally would not give a second thought can save space and weight. Example: the much debated "spork" I tend to like to have reusable "actual" eating utensils when camping. And by using a spork you just saved 50% of space and weight on one item. And I know this is for the most part a silly trivial example, but don't look past the lesson here...... Multi-use items are not limited to items that were designed to be multi-use. I would imagine that if you really sit down and think about it you could come up for different uses for a lot of items that you carry Garbage bags, are a very low cost way to water proof by packing your clothes in. And can be used for actual garbage bags when you need them.
"Item Modifications"
I think that everyone has opened a huge box of cereal or potato chip bag to find it 2/3 full. In the case of food items, can you repack them in smaller containers? I have seen many items that marketing drives them to put them in oversized containers. Medicine ( sinus, aspirin, and other tablets ) are notorious for this, HUGE bottle with 25 small pills in it.
Some other items that you bring might fall into the same category. The biggest example for motorcyclist is the portable air pump. Dozens of different models, in dozens of different price range and shapes and sizes. Some even come with flashing lights, flashlights, and radios on them. I have seen more of these modified to take the oversized plastic case off for the basic compact pump component that is hidden in most of these. The smallest one I found comes in a compact kit by Slime. I am not an fan of putting slime in my tires, but I really like the pump that came in the kit. If you already have one can you modify it to make it smaller ?
To be continued.......