It was kind of last minute but I was able to get away for the weekend with my riding buddy. I'll have more pics to post up as I get them.
We left on Friday September 24th and went from Chicago to Prairie du Chien Wisconsin. It's a nice biker friendly Mississippi river town between Dubuque IA and La Crosse WI. We had 50 MPH wind hitting us head on for most of the trip which made it an 'interesting" trip on Friday. Not a lot of great riding on Friday, we pretty much wanted to get where we were headed and relax so we'd have an early start on Saturday.
IMO this is some of the best riding in the Midwest. Depending on what type of riding you want to do you'll be able to find it in this area. We alternated between twisties and sweeping curves. Twisties for me are the two lane county roads where you range between 30 MPH curves (I like to take these around 50) and 15 MPH curves (and they mean 15-20 MPH or you'll be in the ditch/river). After about 50 miles on these you switch over to the sweepers where the curves are rated at 45-50 and you can take them at whatever speed your heard desires. You also have the hills so your ride is more like a roller coaster at Cedar Point than anything else.
Saturday was overcast with rain heading our way but we headed out northeast figuring we'd stop at any of the small towns we'd be going through if it started raining. Many of the small towns were having festivals so there were lots of fall activities (and a lot of traffic going through town) but it was pretty neat to see all the pumpkins, apples, arts and crafts, etc. when we decided to take a break in some of these towns.
This is the area we concentrated in:
The only real picture I have right now is from the small town you'll see right in the middle of the map called Gay Mills. Don't know why but I thought of the Boss right away and I took this picture right before my phone died.
Saturday ended up never getting above 52 and overcast for the whole day but we didn't get any rain until we were heading towards our last stop/hotel so we got really lucky. Saw a few eagles, deer, turkeys and other assorted wildlife but the bald eagle was really cool. I came over a hilltop doing about 60 and there he was standing over a dead raccoon about 50 feed away. He took off right away and was no more than 3 feet over my head when I passed him. One of those few moments in life you can't really explain to anyone but you know when you have one.
Sunday we woke up to 43 degree temps but the sun was out and so were we. Did a lot of different roads and made a stop at Yellow Stone park. FYI, Yellow Stone is also a state park outside Monroe Wisconsin. It's known for having very few mosquito's since they have one of the larges bat populations around (they encourage the bat population with bat houses and I've heard you can go there pretty much anytime and not get a single mosquito bite).
Our destination for Sunday was to Byron Illinois and the Byron Dragstrip. Another one of our buddies has been drag racing his Suzuki GSX1100 for over 30 years and this was his final race of the season.
My iPhone died after my picture in Gay Mills but I had my charger and cigarette lighter adapter (thanks Dave for the sticky) so I was able to charge it up enough to take some videos and I'll see if I can get these links to show up. Worm, I was thinking of you while I was watching these:
First, here's my buddy winning the 8.80 class with at time of 8.82: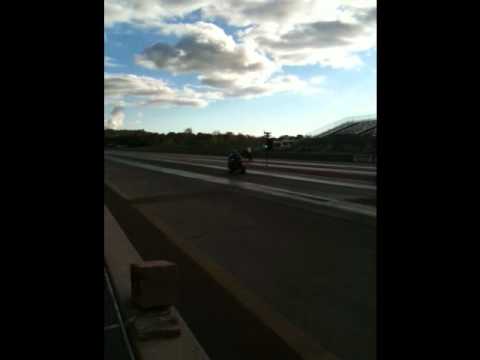 Here's my buddy in the elimination round for the 9.80 class. He admitted it was the biggest brain fart in 30 years. He forgot to put it back in first gear after his burnout. Robbie, you probably know more about this than I do but I guess you do your burnouts in 2nd gear and everyone knows you switch back into first to race.....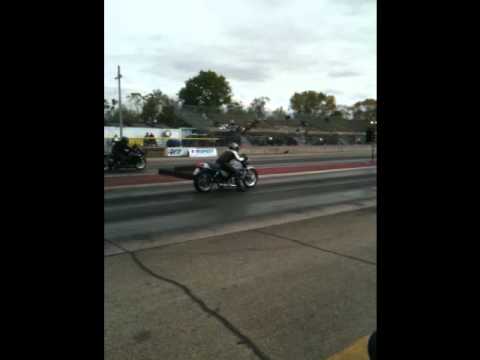 Here are the Harley's that were racing. First is a Road King. Finished with 12.88.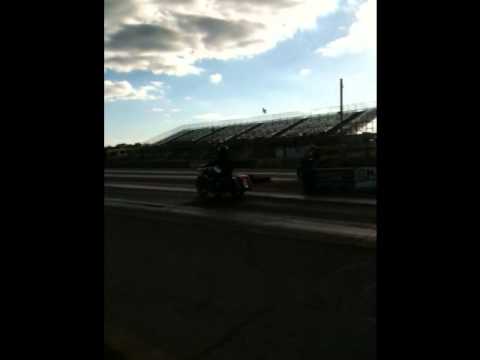 Next is Boss on his Street Glide. Finished with 14.2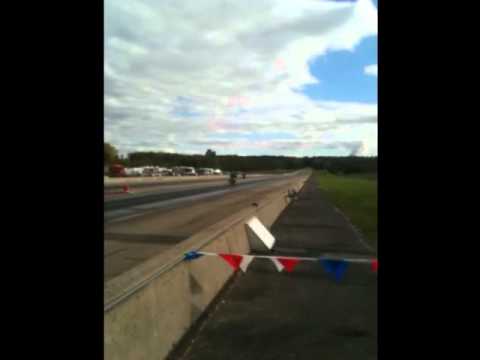 Here's a few more for you. This guy hit 195 for the quarter mile. Don't remember the time.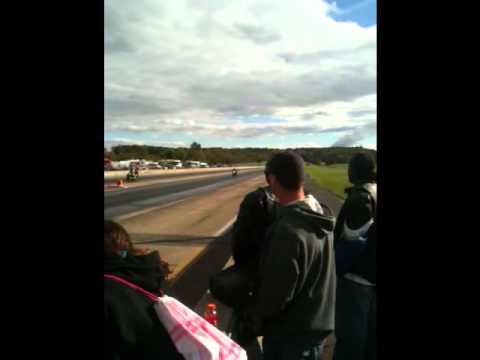 This guy hit 190: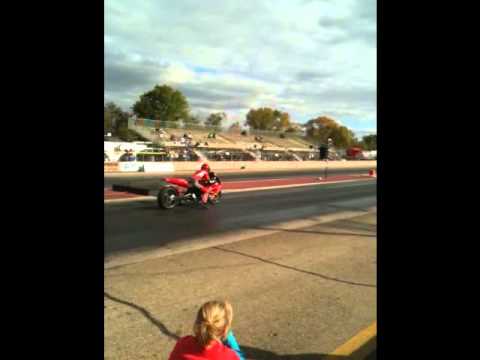 Here are other assorted videos. Bikes and cars........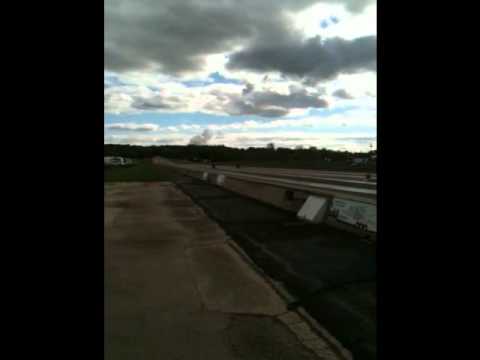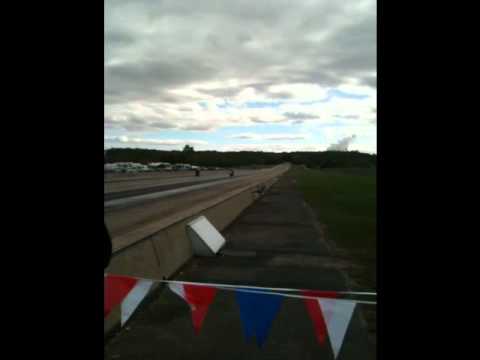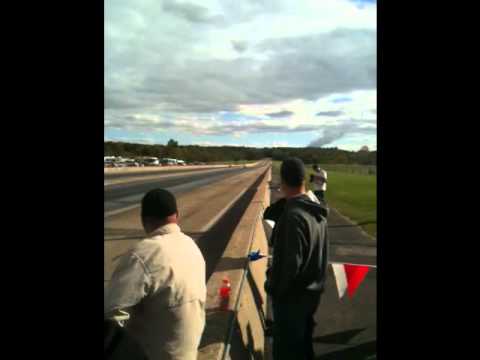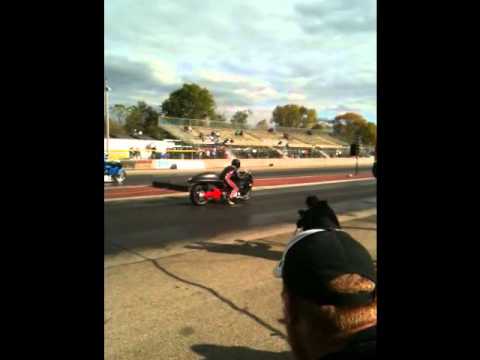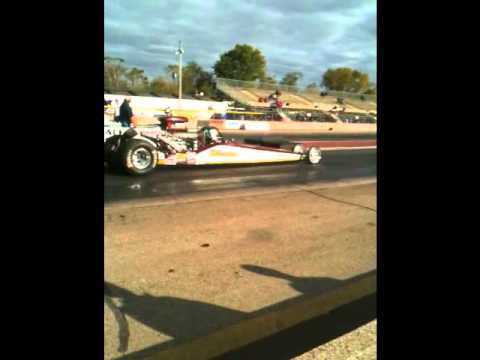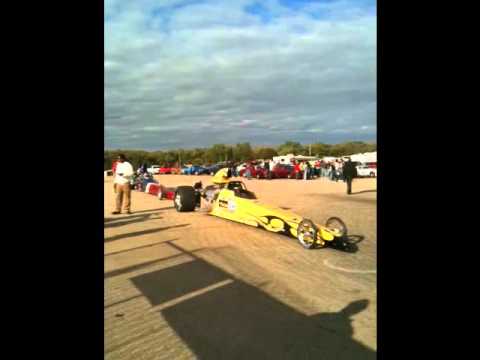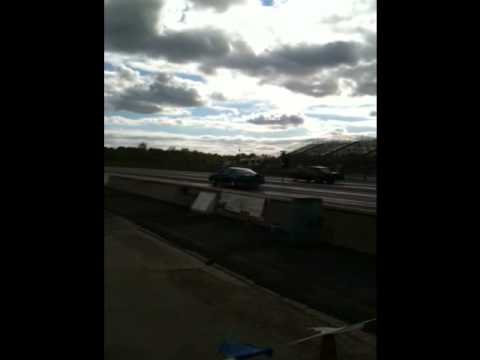 It was a great day and a great weekend. We missed the jet car that raced there earlier in the day at 300+ MPH.