Yep May 21-23 in Paintsville ky, Ramada Inn or Paintsville lake campground. You ask why Paintsville, cause ive worked hard plannin an all day ride through that part of the country. And im quite sure everybody will enjoy it.:thumbIve posted pics in this rider reports thread of SOME of the places we ll be ridein.
-=XDixiecratX;212961

how far is the Ramada inn from the campground? i may trailer the bike and stay in the van at the campground. i got a big assed tent i can bring if anyone else plans on camping.
-=big worm;213199

3 miles
-=XDixiecratX;213222

Dix, I want openly Thank you for everything you are doing to help put all this together. You are definitely going above and beyond the call of the HERD.
Thank you:thumb
-=Rockerbox1;214498
I''l be taking photos and videos....SO please dress proper and be in your best behavior!
8
8
8
-=TheBoss34;214505
This looks real good. I've been wanting to join this joke making group since I been around. Haven't had the guts to step over to the other side of this fence. With all these hogs around I didn't want to put my foot in any chit. How do I join this merry merry herdster group? So the wife and I can make this trip.
-=Dimoncutr;215271

Sounds like a great place to start. Thanks Rockerbox1. Strat And Geouhl I live just outside of Grand Rapids and that's near lake Michigan. Not far from you dimoncytr if you want to go. I probably ride down to rockerbox1 place to meet that crazy chicken. Ride home on Sunday. pm me if you guys want, we can work out details as they get closer.
I don't know about where to stay when we get down to Paintsville. I dont have much space for packing sleeping bag and tent. Figure something out. I think this a great idea. Thanks again to everybody putting this together.
-=Moose Rocker;216176
Wow, I'm gettin swomped in pms, Looks like a lot of interest here. Let me say this first, Dave has suggested a good idea as a seperate thread for commitments to the campground, this is good. Everyone can PM me AFTER I GET BACK from Paintsville this comeing weekend. I need to talk to them bout trying to keep all our sites together. and see if I can get a better rate for more sites. I will be gone from this site fridat through Sunday. Ill give out the total details Monday. Thanks !
-=XDixiecratX;216316

I will have my bike and truck there, Theres a walmart 2 miles from the campground you can buy an air mattress for 99 cents.
8
-=XDixiecratX;216472
Yes and I will need to know how many campers, they cost I THINK, $25 a night, but theres water and electric hook ups. I ll know more after this weekend. Im goin try and get it all together side by side.
-=XDixiecratX;216522

Damn just found this thread. Hell I am so going and bringing most of the family too. Will be staying at the Ramada as one grandson is only 2 years old and camping might be a little weird for him, especially if it rains. The 7yo would like it but maybe next time.
I should be on my bike if and unless something I don't know or expects happens.
Leaving from the Goldsboro,NC area.
my rooms are booked. 2 rooms for 3 nights. And everybody there sounds so friendly. I think I chatted with a clerk named Miriam and she was just as pleasant and happy as you could ask a person to be.
I think we're all gonna have a great time.
Thanks for stepping up DC.
-=badinfluence63;216529
I did. I wanted to make sure I got 2 rooms. See, this HERD thing is bigger then expected. No telling how quick the rooms will get gone. Theres about 8 in my crew coming. I will be the one with the HERD shirt and decal on my bike.
This is what my bike looks like. One of my grandsons will be on the back and the wife and another guy in the sidecar. No not until we get onto slower back roads:
-=badinfluence63;216554
I need a question answered here before I go to Paintsville this week-end. I ve HERD a couple people say their bringing children and grandchildren to the motel. Is anybody bringing children to camp. If so how many and what is their ages?
-=XDixiecratX;216582

The marina has a nice on the water dinein area too. but im like ya ll. its nice to grill out. theres a nice super walmart 2 miles down the road where we can get steaks and stuff.
-=XDixiecratX;216641

Food wise I think grilling for dinner is a great idea as long as Dixie has some breakfast / lunch stops so we can have some of that local cuisine (like squirrel):thumb
I'm riding alone, not bringing any family but I may talk my riding buddy into coming (he's not a HERD member and I don't even know if he knows how to use his computer). I'd be happy to chip in for food / beer so I don't need to pack too much on my bike. I'll have to look for Dave's sticky on strapping things to my WG. I'm leaning towards camping now that I know where the fun is. I think those dogs Rockerbox was talking about sound great.
-=geouhl;217078
Ok Herd I want to offer my services. I will be a designated driver to shuttle people from hotel to camp site and a chase vehicle for the ride on Saturday. I live in Ky and work in Lexington(which is 116 miles from Paintsville). I have access to a Suburban and box trailer as a chase vehicle(in case of a break down,but we know Harleys never do that, lol). I can bring a gas grill and haul what else we may need so everyone can keep their loads light!
I can offer my work address as a "ship to" address since we receive both Fed Ex and UPS here at our warehouse. I can store it here and get it to the campsite too.
I will get with Dixie and let him tell me what he needs me to do. I may bring the wife if she wants to come. We would probably stay at the hotel.
I also have a big cabin tent and three-two man tents that people can use. I have three lanterns too. I have a pop up canopy to set up at the campsite where the cooking will be done. I have some camping chairs.
You can pm me and I will give you the shipping address and you let me know how many packages to expect. Make sure to write your herd name on the box so I can keep them together and a 1 of 2 or whatever if you have multiple boxes.
Here is a pic of the rig I will bring.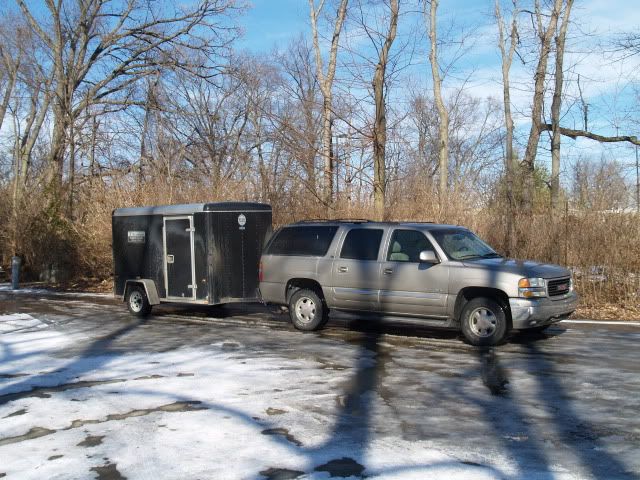 -=jirvin;217220
jirvin, that is a most generous offer. I don't think I have anything to ship but I may take you up on one of your tents. I think I might have one but I'll have to do some digging and if I remember right, it's not motorcycle friendly. If you're carrying the beer for the campground you might need a bigger trailer
8
-=geouhl;217305
You're the kind of people that make coming to a site like this great.Thanks for the services:thumb I'm glad I chose this one as my main HD source. You guys are great. It's going to be a pleasure meeting everyone.
-=Dimoncutr;217340

When this thing gets closer it would be nice to have a list of real names and some cell number. God knows where I'll actually end up. I usually just ride in a general direction when I take a long trip. Be nice to give someone a call and say "Where the hell am I and how do I get there?". Boss probably has all the info on everyone. It's OK to give mine out to whoever wants it Boss.
-=geouhl;217551

Sorry Dixie I don't. Just pm me your thoughts and a contact # and you can give me my orders! :)
Offering my services is the least I can do since it is in my state and I have access to vehicles and camping stuff! I just hope it will be a help and make this trip a good one for all!
Can't wait to meet up with everyone! I have been to the Ramada before and I can vouch for the food in the restaurant there. I have not been to Paintsville Lake so I can't give any help there.
-=jirvin;217998
This would not be possible to the extent it is w/out Dixie stepping up to arrange things and recon the area. Perhaps someone else would be willing to in another part of the country.
I live in New England, about 1hr and 15 minutes from Laconia and if many or any want to converge for that rally I will happily help in anyway I can allowing camping on my 12 acres and reconning hotels and campgrounds. Maybe we can talk about it in May?
I already had my rooms booked and I was coming even if it was just me and Dixie. Appalachia is one of the most beautiful parts of the USA. Perusing the town web site shows it has a little bit of everything yet appears not overly crowded. We'll know more when we get there.
Was thru Appalachia back in the 70's as a young lad, always meant to go back. Peoples were really nice, the food great and the scenery over whelming.
-=badinfluence63;218410
I believe the issue we have here is limited space. There's only 10 camping spots, that'll fit 2 tens a piece on it. We're not going to rent spots to non-members before members.
However...We'll know more when Dixie comes back monday. Let's see what he says then.
-=Dave63;219871
ITs ON !!!!!!!!!!!!!
Everything come together. We should have a great time !
Contact Dave63 for Tent sites.
Contact Paintsville Lake State Park for Motorhome and traveltrailer slots.
Contact Romada Inn for rooms.
Tent sites are fillin fast so hurry.:thumb
-=XDixiecratX;220109
looks like everything is coming together nicely. Thanks for your effort in putting this even together Dixie, adn also Dave for all of your coordinating efforts (I know Dave, you expect beer in return :D) :thumb
-=Rockerbox1;220268

Thanks for going to Paintsville Dixie. This is going to turn out great.:thumb I'm going to call the park this week for a camper site. It looks like its on the other side of the parking lot. How far between the tent and camper sites? Walking? Also, do you know if you have to park your car in the lot if you have a camper?
-=Dimoncutr;220708

This is all sounding great and I'm looking forward to it but I want to make sure the dates are what they are. If I plan on leaving Chicago on Thursday afternoon and heading towards Rockerbox's house; then leaving on Friday morning to arrive in Paintsville on Friday evening. We ride on Saturday via Dixies great route (thanks again Dixie) then is everyone heading home on Sunday or are we riding around again in Sunday? Folks staying over Sunday night there or pretty much breaking up the party?
Just want to get a basic timeline down so I know about days off work and such.
-=geouhl;221028
Friday, saturday and sunday. Staying over friday night, and saturday night. Most are leaving sunday, as far as I know.
If you want to book another night (sunday into monday) and head out monday, that's up to you. You'll have to book it with the office, and ahead of time would be a good idea.
Not sure if Dixie planned anything for sunday........
If you do, (head out Monday and not Sunday when most are heading out) then you'll need to pay for the 2 nights through me, and the other night via the campground, as Dixie leased the entire camping section for our event.
If you do, then mention that you're with Dixie's group and they'll know exactly what to do.
-=Dave63;221034
DC can correct me if I am wrong but that area, Appalachia, is as crucial to the development of the continental USA as the original 13 colonies of America. It's an area that doesn't get enough credit for what it brings to our history as a country. Scotch/Irish migration to that area in the 1800's made up most of the population. The contributions are many to include and in no particular order, moonshine, music(there was a movie made back in 1994 called "High Lonesome" that covered the Blue Grass greats like Bill Monroe, Ralph Stanley, The Osbourne Brothers and Jimmy Martin to name a few), logging (million dollar industry) and coal mining industry. A countrified patriotic non trusting of government people, are most commonly known for long clan feuds which others say are just myths. Appalachia, despite struggling with poverty issues continues to be, in my opinion, one of the lesser known brighter stars of our country.
The area was probably the most hardest hit with controversy during the Civil War, pitting brother against brother.
While the Appalachian mountains go from Canada to Alabama the Appalachia region is made up of parts of 13 states, Western NY/Pennsylvania/Ohio/
Maryland/ Kentucky/Virginia/North Carolina/Tennessee/S. Carolina/Georgia/Alabama and Mississippi.
And you knew Appalachia was screwed when the US Government started the Appalachian Regional Commission back in the '60's. "Hi I'm from the government and I'm here to help." Yeah right.
Please feel free to correct, add or contribute the history and the beauty that is Appalachia.
-=badinfluence63;221227
I just read through this entire thread for two reason: I'm bored as hell and enthralled with this idea. I was actually thinking about the time that thread about us all being poser nerds had to come to an end for the sake of all that is good in the world that God help anyone who had to bear witness to all these nutty bastards getting thrown into the same room together. I'm riddled with desire to jump in on this but wanted to get cleared up with a few things before I go volunteering myself where I don't need be. First, to what extent is a baby herder like myself invited? Besides Rocker's mention that the noobs need bring the booze (got yer 9 pack right here, buddy) I just wanted to clarify protocol. Keep in mind that I'm one of the guys that neglected to introduce myself properly, blame that on the social retardedness that is my charm! Second, my shadow, that being the guy that goes where I go rides a metric cruiser. I'm opinionated about it but he's cool enough that I pretend not to notice his Yamaha is a Yamaha. How bad you all gonna hurt the guy if I were to go running on down there n brought metric? Finally, I need to test the water with the woman before I even go entertaining such an idea. I'm taking the shadow and going to bike week here in Feb. so I am taking my life into my hands recklessly to plan two trips that close together so be prepared to pretend I didn't weigh in on this at all.
-=H8TANK;221831

H8tank,
Its all cool in my opinion. I am bringing my 2 grandsons,2 daughters and wife. I personally have no issues with metric riders either. I am hoping a friend of mine from California shows up on his GW. Not everyone who rides a Harley is cool and not everyone who rides a metric is an arsehole. My feelings are everyone's welcome and if you bring a guest common sense would dictate you would be responsible for him/her.
I say come on down because it truly is that friendly and informal. This is the first time for most to meet in person.
That's my opinion and 2 cents worth. Be forewarned....I am a mister nobody here and don't you forget it!
-=badinfluence63;221847
Kentucky State Parks - Regulations
I just read some more of that page...sheesh! If everyone was to follow all those rules to a 'T', you damn near couldn't fart without getting into trouble!
-=Yochanon;222034
Beeeeeerrrrrrrr....mmmmmmm.I guess thats what the Bozz iz doin.I still love em anyway as long as the wine dont run out...hehehe Wait I don't drink that chit!!Love me a Heiny!!
-=Badassbrutus;222375

We certainly can take a moment to raise a toast to all those before us!
As said before you're a good friend Dixie!
We all truly appreciate knowing you and I haven't even met ya in person. Thanks for doing all that you do! I am really hoping to make this trip.
-=StoneCrab;222950
The best way to Thank the HERD is to be there. Your in NC and thats close enough to be there. Thanks for the thanks but I dont deserve anymore than all who have participated ( I know it aint spelled right fug it.) in this gathering. I just happen to be in a centrally located part of the country thats idea for the HERD to meet. A lot of good can come from meetings like this. BE THERE !
:thumb
-=XDixiecratX;223016
You guys are seriously starting to scare me.:eekers
-=Dimoncutr;223531

Jirvin has offered to follow us in his suv and trailer. I think a toast is in order here, and Thank you Jrrvin !:cheers:
-=XDixiecratX;223544

We have 15 of the 20 camping "spots" accounted for, not including Hotel folks.
So...that's at least 20 bikes that I know of, just by basic math, not including people coming that are sharing a tent, and riding their own bikes.
-=Dave63;223946
I was wondering what the aproximate count of attendees was. Big enough to have a ball, small enough not to get out of control?
Can't wait.
-=badinfluence63;224253
Not everyone thats coming to Paintsville was in the video. DC was, I was, Check valve is too, Dave63 was and big worm. Was rocker box in the video?
Should we start a thread for pictures of those who are attending so we know what everyone looks like?
Let me watch the video again
-=badinfluence63;227377
I just got to thinking about something, durring the weekend of HERDstock......this forum is gonna be dead. wonder exacly how much power we will be saving. We might be able to get an Obummo grant for HERDstock, say we are going green:D
motorcycle .com will think we all abandoned the site when their bandwidth drops off that weekend
-=Rockerbox1;229416
Here's the deal........
I'm showing up at the event, no matter who else shows up.
I've got peeps that I need to meet, shake hands with, and people that I need to break bread with, that weekend. I'd like all the people of this forum to be there, but realistically, that's not posible.
What I'd like is as many people to be there as possible, and we'll have a great time.....
-=Dave63;239107
We are so pumped and excited about this event that you have coordinated! We can't thank you enough! :thumb
-=TheBoss34;244501

Agreed! Can't wait to meet everyone and shake your hands. Damn bunch of good people gonna be at that HERD roundup!
-=Yochanon;244620

For those that are not getting a room in advance (PREPAID), I have negotiated a group rate for you.
Show your HERD ID card (no joke) to get a discount.
I'm providing the rates below and keep in mind that the PREPAID rate...you pay in advance but you can't cancel.
Single Queen Size
PREPAID - $62.90 (Best Deal)
HERD Discount - $70.00
Double Beds
PREPAID - $72.95 (Best Deal)
HERD Discount - $78.00
AARP - Look out...We are plowing through!!! :thumb
-=TheBoss34;248957
The double-bed rooms normally go for $85 if you are bringing the kids. So with the discount for 2 days, after tax you can save $16 or $17 bucks. Not too bad...
-=TheBoss34;248961

Ill look into it next time im in Paintsville. Are you guys sure you want all the rooms together. Ill walk the place and see whats the best view of the bikes. Or I can ask the local cops where the safest place so they can keep an eye on em. Or you could leave em at the campground with us and we ll have transportation there for ya. Lots of littles to work out yet but we ll GET ER DONE ! Main thing is do you want the rooms side by side ?
-=XDixiecratX;250591

Theres a 24 hour guard at the campsite name of Dave McCoy and he lives there plus we ll be sleepin right on top of the bikes. Campground parkin aint no problem.
-=XDixiecratX;250813

Is there a curfew at the campground? Reason why I ask some places want no noise after 10PM some 11PM at the latest. Even objecting to loud laughter.
I certainly do not want to go there and wear out my welcome for being inconsiderate. May want to come back next year.
Maybe if we booked asll the spots that won't be an issue? Maybe were all so chronologically advanced we won't be able to stay awake past 10PM:rollin.
-=badinfluence63;251808
Heres one way to look at it, we got the whole place rented whos goin to complain??:laugh
-=XDixiecratX;251821

Fri - Sun
May 21 - 23
most peoples stayin Friday and Sat night[/QUOTE
I just call Ramada and you guys have booked 20 rooms and theres 80 left, no panic nessasary,lol
:laugh
-=XDixiecratX;256273
Rocker If your goin to be doin tattoos Saturday, and I do understand you ll be wanting to Party and get drunk an all, and it will be dark, but how long does it take to do a tattoo of the HERDSTOCK patch ? If it takes to much time or you dont bring your stuff I ll get it done in Pikeville next week.
-=XDixiecratX;257906

Sometime next month, Dixie will be riding the entire HERD path and he will share that information with me. You will then receive a flyer via Email with details such as times, places and events for this rally.
I see questions about cook-out, ink palace (station), coffee and PISS stops, etc.. Hopefully we can outline everything so that even a lost blind person can find his way through this event.
If anyone is going to bring something out of the ordinary to the event such as a HOT AIR BALLOON, etc., please send me a PM or Email so that I can add it to the flyer.
The Hotel does not have a shuttle but I am working with the GM to see if they can accommodate us for Saturday night shuttle rides back to the hotel and Sunday morning back to the park to retrieve our pigs!
We do have a couple non-drinking members that have offered to provide us with rides back and forth and we thank you for that.
Hopefully when we narrow down all the details and send it to you, we will have all of the important information.
For those that are uncertain and decide to attend the event, make sure you let the Ramada Inn know you are a HERD Member so that you can get your discount.
Once again and as stated previously, special thanks to:




Dixie For being our LOCAL coordinator for this Memorial Rally, event planner and State Representative



Jirvin - Volunteer to have the runner vehicle, storage for incoming luggage/packages and also for being a State Representative



Dave63 - For being the gatekeeper of the Campground and letting us know what sites were available



check_valve - Wanting to grill for us



Rockerbox1 - Wanting to grill and ink at the same time (multi-tasking)


-=TheBoss34;279964
I've always felt that the one time Harley rally world has fallen to commercialism. Fake, urban, me'ism. I remember being 8 yso camping on the side of the road during Laconia bike week and being able to run around anywhere while dad was "scrambling" as they called it back then. Everyone watched out for everyone. Those were the best of years.
Fast forward to older now and I didn't experience the whole open arms brotherhood warm and fuzzy at the bigger rally's I attended. It was small pockets of groups who were all about their group and fck everyone else.
One time me and a friend from Staten Island were attending the Rendezvous. My friend has his wife and 2 very small children under 3yo and the camp next to us was shooting bottle rockets straight up in the air. Some were zig zagging across and thru our camp site. So I walked over and politely explained that there bottle rockets are almost causing a potential problem as there are small children with us. I didn't get the response I expected in fact it was along the lines of go f*ck myself. My friend came over and it went down hill from there. After the mini beg to differ moment they ceased the bottle rockets.
So I ceased attending any more rally's after the 50th Daytona except I go to Laconia in the morning during the week during bike week because I live an hour away.
Hey maybe it's me and as I get older I have unreasonable expectations of people. Personally I don't think its difficult to be considerate,kind and thoughtful. As far as those who may take advantage of that....it shows itself quick and unleash the dogs of war on them as far as I concerned.
As grown folks we all know for what we do.
I didn't stop riding au contraire I just go where no one else goes but I've always missed that warm and fuzzy brotherhood that I know other riders want too. I am excited that this HERD deal will be the beginning of the rebirth of the motorcycle comaraderie that once existed.
-=badinfluence63;280409
Nice said BI. Hey HERD right now I have it layed out for a seven hour ride with stops. But I know some goin be hangover from Friday night, lol. So here something to think about this weekend. Do we want a five hour ride instead of 7 hours as I can cut 2 hours off. This would allow more time for cooking at the camp sight. There's a huge Coal operation I think ya'll would enjoy see in and I know ya want Loretta Lynn's Home place. Talk bout the time and well decide next week on how long.
-=XDixiecratX;280488

Well so far looks like the HERD wanting a short 5 hour ride.
-=XDixiecratX;281317

Sitting here in my office I vote for the longer ride. I think what Dave said might be the best idea where after XX hours of riding we can have a group that breaks off to return to the campground and another group that continues on if they feel like it. We don't know how we'll feel once we're all together and riding as a group.
d
-=geouhl;283617